03.09.2006
Dear Nantlle Citizens,
Many congratulations on your fascinating and expertly created website, it is a feast for anyone who knows and loves your glorious countryside and active communities. I'm sure I shall often return to it again in the future.
I discovered your site when looking for information re. the following e-mail, recently received from a correspondent:
Many thanks for the copies of Pendragon Magazine the material has helped me in my research into Helen 'Elen' Luyddog.

Please find enclosed several pictures of Lake Nantlle (a double lake site / 'Baladeulyn') in Snowdonia, which appears to be the location for the wizard Gwydion's finding of the grievously wounded Lleu Llaw Gyffes:

"Grows an oak between two lakes.
Darkly shadowed sky and glen,
If I speak not falsely,
From Lleu's feathers this doth come…"

This raised causeway between the lakes, then, would be the very path Gwydion followed y mochyn du, to discover Lleu's agonised refuge. Sadly, the causeway is padlocked off from the public, although a listed Right of Way, and its final section towards the southern shore is missing. I have petitioned Gwynedd Council to restore and reopen this historic 'lost way', and received some moral support, but nothing is actually being done. The petty bickering of landowners will see this unique causeway fade into oblivion, I fear, unless the council step in to preserve it for posterity?

Thanks again for your help and as is said in free and wild north Wales,

Hwyl fawr
I am the chairman of The Pendragon Society, an international organisation founded nearly fifty years ago in the West Country and still surviving and producing a quarterly journal on the never-ending quest for King Arthur and all aspects of his possible history, legend and myth.
The message referenced above is the response to my having copied a back-number of our journal Pendragon from the 1980's which featured articles on the theme of Ellen/Helen. I understand this London-based man is hoping to make a documentary film of some kind and he enclosed the following photographs labelled 'Baladeulyn Causeway':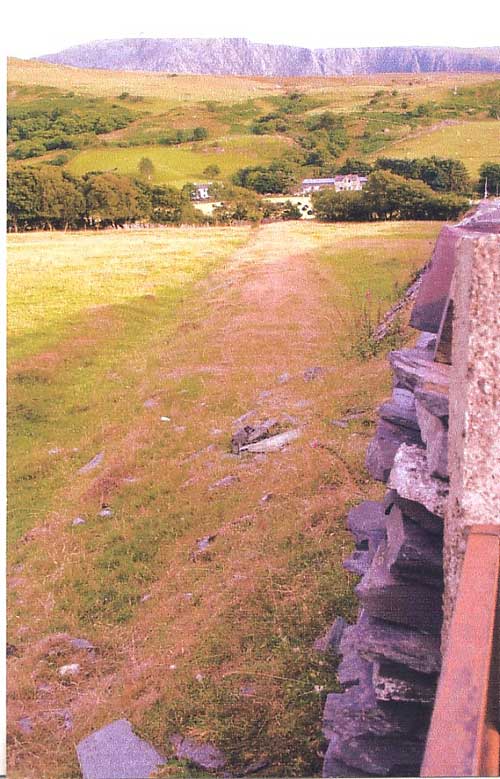 Photos courtesy of Ric Kemp.
I hope you will find this information interesting, I make no comment or judgement on the claim that this causeway is a listed right of way now padlocked or the legal rights of local landowners. My main interest is that the letter locates the finding of the wounded Lleu Llaw Gyffes to this location. Is this an identification known and acknowledged by your local scholars and readers of The Mabinogion, I wonder?
With kind regards,
Fred Steadman-Jones, M.A.
Chairman Pendragon Society.
E-Mail me
---
Reply
Dear Nantlle.com,
Re: the above message on the noticeboard
and
" I understand this London-based man is hoping to make a documentary film of some kind and he enclosed the following photographs labelled 'Baladeulyn Causeway' "
That London-based man is I, and my name is Ric Kemp, and I should be grateful if my authorship of these photographs could be acknowledged please? I am indeed working on an experimental short film, based on the Fourth Branch of the Mabinogion, which will feature scenes from the beautiful Dyffryn Nantlle. The personage of Elen Luyddog has been central to private research that I have been carrying out for several years now, into British and comparative mythology, the results of which will appear on the internet, in due course.
I feel strongly that Baladeulyn should be officially recognised as 'a site likely to be associated with the Mabinogion', and spent several years corresponding with Gwynedd Council, and other authorities, over this matter, to no avail: perhaps it is time for the good people of Baladeulyn to stand up and be counted, over this issue? Welsh culture and language go hand in hand, I feel; either treated lightly will have dire consequences, ultimately, for the future of Welsh identity and rightful heritage.
Diolch,
Ric.
E-Mail me

ffilmiau: http://uk.youtube.com/megalith6