Some of the villages of Dyffryn Nantlle came into being when quarrying for slate in local quarries began at the end of the 18th century and beginning of the 19th century - for roofs, gravestones, memorials, window sills, pavements, billiard tables and writing slates for schools etc. The demand for these continued for a century and a half, and although the main quarries have closed there is now considerable call for slate waste to make roads and for garden use.
The quarrymen came chiefly from Anglesey and Arfon and this is why the culture remained so Welsh throughout the period. At present, about 80% of the population speak Welsh as their first language.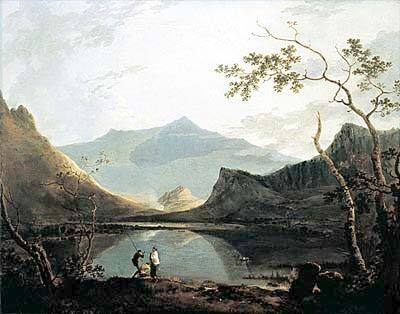 Dyffryn Nantlle has produced many poets and writers who are referred to under the various village headings on this website. It is also strongly associated with the prehistoric period as found in the Fourth Branch of the Mabinogion.
This famous picture of Dyffryn Nantlle (Snowdon from Llyn Nantlle [1765]) was painted by Richard Wilson, showing Llyn Baladeulyn between Craig y Bera and Y Garn with Snowdon in the background.
»» The 1840 O.S. Map of the Nantlle Valley

For more information about the history of the villages of Dyffryn Nantlle, select the appropriate village name in the menu on the left.
< < <