Popular conductor stands down after 24 years
Baton handed over by choir's leader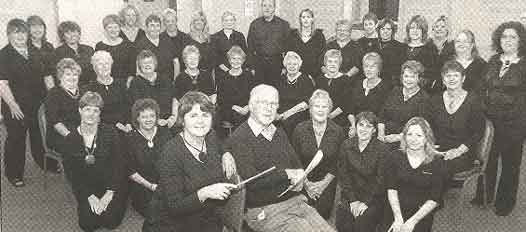 The conductor of a popular and award winning choir recently stood down after 24 years of service. Maldwyn Parry, the leader of Dyffryn Nantlle's Lleisiau Mignedd choir is to be succeeded by his deputy – Ceren Owen.
The female voice choir have seen a number of successes since it formed in January 1982 including wins at the National Eisteddfod and Celtic music festivals. They have also made several television appearances on popular programmes including Noson Lawen and Dechrau Canu Dechrau Canmol.
In March 1997 the choir performed at a concert at Engedi Chapel in Caernarfon alomngside Cor Meibion Dwyfor and opera legend Bryn Terfel, and in 2001 released their first CD on the Sain label, titled Cerdded Ar Hyd Y Llethrau to mark its 21st birthday.
Malwyn, 76, who had been conductor of the choir since its infancy said he would maintain his links and had many fond memories of his time at the helm. He told the Herald: "I joined the choir three months after they first got together. We have had so much fun. The highlights for me include winning in the National Eisteddfod and going to Ireland to compete three or four times."
"I had been a conductor for the Dyffryn Nantlle Mixed Voice Choir some years before joining Lleisiau Mignedd and it was a challenge. Unfortunately I have had to give up due to Parkinsons and my heart is not as it should be. Ceren has taken over as she was the deputy conductor and it was natural she should do so. The choir has grown over the years from around 12 when I started to nearly 30 when I left. We also had the honour of performing alongside Bryn Terfel. I will keep in contact with the choir – it would be difficult not to after all these years," he added.
Nesta Jones, chairwoman, said "It is an emotional time and we will be hosting a dinner on November 18 to say thank you to Maldwyn for his work and also to welcome Ceren. Lleisiau Mignedd has continued to grow and following the Eisteddfod this year eight new members have joined bringing the choir to 37 members now."
Ceren, originally from Penygroes but now living in Caernarfon said the role was tough but she was enjoying the challenge. The Ysgol Pen y Bryn, Bethesda, headteacher said: "After the Eisteddfod, Maldwyn decided he couldn't carry on and hoped I could take over. It was a tough decision for me to make as I know it is a busy choir. We have got two recording sessions for BBC Cymru radio coming up in December, one of which will be broadcast in the run up to Christmas and the other in the new year."
"I have a lot of family in the choir, including my mother, two sisters and cousins, so sometimes I have to pick on my family! I enjoy working with Nesta and Gareth the accompanist," she added.
Original article by Lee Roberts, Caernarfon & Denbigh Herald - November 17th 2005
Photograph by Arwyn Roberts