"Just some old memories"
by Graham Bell ~ November 2006
My name is Graham Bell (a 64 year old, who is clearing away a few cobwebs of the mind), and I thought you might be interested in the attached photos and some the following information.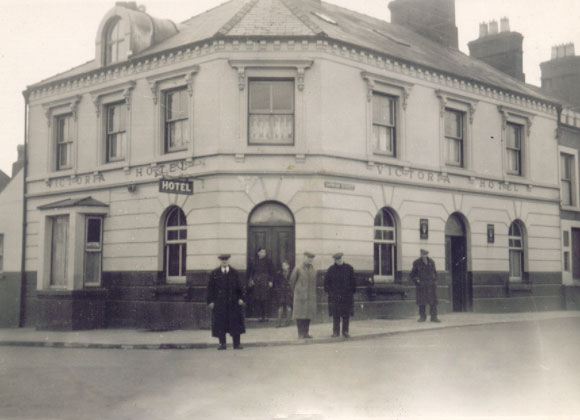 Image: The Victoria Hotel in Penygroes c. 1950.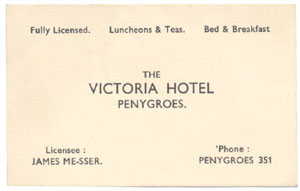 Image: The Victoria Hotel's business card c. 1950.
My grandfather, James (Jim) Messer was the Licencee of the Victoria Hotel, Penygroes from around 1946 to 1955 having moved from being the licencee (c. 1942-1946) of the Rhuallt Hotel in Llanrug.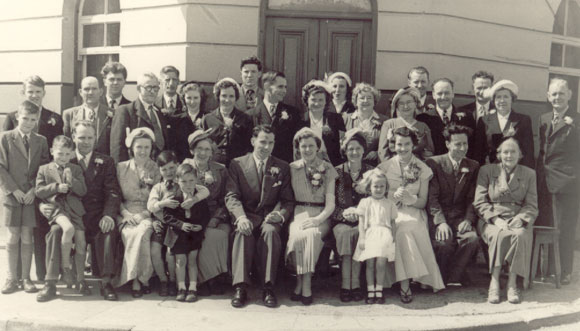 Image: The wedding photo is of my uncle, Roy Messer to Peggy Rimmer (27-7-1953) with both families and friends ouside the "Vic". Jim Messer (Snr) is 3rd from left on the middle row.
At some time this period Jim and Roy owned and managed the slipper factory on the small industrial estate on the way to Llanllyfni. Also in the photo are my uncle and aunt, George and Anne Messer ( centre middle row) who ran the fish and chip shop in Llanrug, some people might also remember her mum and dad Mr and Mrs Crossley, owning the small grocery shop next to the bridge and the horse and cart that took out the groceries etc.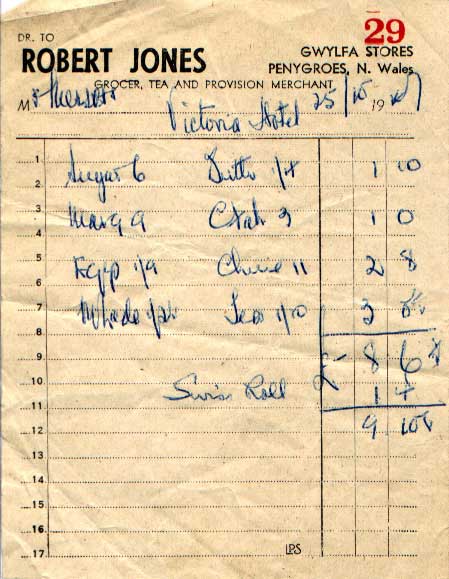 Image: A receipt from Gwylfa Stores, Penygroes for the Victoria Hotel. (The numbers next to each item are for the number of coupon points required from their Ration Book.)
I and my parents came to Penygroes in about 1946 from Weston Point Cheshire. My parents Don and Nancy Bell were the licencees of the Llanfair Arms in Y Groeslon, from around 1947 to 1952, when I, my brother Gordon and parents moved back to Runcorn in Cheshire. My mother and father ran the pub plus the attached garage, repairing anything from farm implements to lorries and cars.
Petrol was dispensed from a hand cranked pump and all the village glass electric battery accumulators were brought in for re-charging. He also ran the local Taxi service. I remember the 2 cars, a big dark blue Austin Twelve that could get the driver, 6 adults and a couple of children in it, and the Armstrong Siddley saloon (even then, it had electric windows, a pre select gearbox controlled from the steering column and an electrically operated glass partition seperating the driver from the passengers).
I know we never had much money, but we ate well as most of the local farmers seemed to work on the barter system! During time off from running the garage etc my father played football for Nantlle Vale but I dont know which years.
I have many fond memories of living and being brought up in Groeslon and Penygroes, not the least of which was attending the old primary school on the hill, and eventually passing my 11+ in Welsh, before coming back to England to learn a trade. My Welsh language speaking has all but disappeared, as a result of the education system trying to get me to learn French, and I can't speak that either!
I do have a school photo c. 1949 somewhere, with all the class names on it. Some names I can recall are Elmer Price, the twins Di and Iorwerth Ellis, Bobby Grifiths, Dewi Williams and Gareth Owen.
Keep adding to the nantlle.com website, as I'm sure there are many more memories out there somewhere - typically the weekend double header steam trains that came from the North West loaded with holiday makers on their way to Butlins at Pwllheli, stopping in Groeslon station to let the return train pass - the waiting train drivers knocking at the back door of the pub for a bucket of beer in return for a hundredweight of coal off the tender. Pubs did not open on sundays in those days.
Best regards,
Graham.
Update: 8th January, 2009
Hello again,
Some time ago I sent in my Memories of Penygroes which you presented on the website. In them was a photo of my uncle Roy's wedding day.
Roy moved to Canada back in the 60's and still lives just outside of Toronto , he is now 82 years old and we often talk of times in "the Old Vic".
His christmas card this year 2008, contained a newspaper cutting that he obtained from papers that are sent to his friends in Canada, and it just shows that -"What goes around, comes around".
»» Please follow this link for a scanned pdf document of the cutting


(253kb)
We both hope that someone will find a means to preserve the building, as either offices or even as a Pub !!
Even if they don't, we still have many fond memories of living and growing up there.
Best Regards
Graham
---
Continuation
»» Read more about Graham's Memories on the Groeslon village History pages