Cerdd Dant & The Francis Brothers
"In the twentieth century, there was more consistent activity in the field of Cerdd Dant in Dyffyn Nantlle than was seen in any other part of the old county of Caernarfonshire," said Dr Aled Lloyd Davies in his book "Canrif o Gân II".
The chief exponents of it in the 20th century were the Francis Brothers, Llyfni Hughes and Gwennie Roberts.
In our time (the late 20th- early 21st century), Carys Puw, Glesni Jones and Parti Lleu maintain the tradition.
What is Cerdd Dant?
Cerdd Dant (literally "String Music") also known as Canu Penillion (literally "Verse Singing") is a musical form unique to Wales.
Nowadays it has various agreed rules and conventions, but in its early mode of performance (put very simply) the harpist would start first with a traditional tune, then the singer improvised a counter-melody with familiar verses beginning on an off-beat: both voice and instrument had to finish together.
Although its origins are uncertain, by Victorian times it came to be considered as rather vulgar and uncultured in polite society, and for a short time it was banned from the National Eisteddfod (our chief festival of the arts.) See www.historic-uk.com/HistoryUK/Wales-History/Eisteddfod.htm

for further details.
But there were individuals such as the Francis Brothers who strove hard to rescue it from oblivion and to restore its reputation as a most expressive combination of Voice and Verse. They lived to see the establishment of the Cerdd Dant Society in 1934 (for more information see www.cerdd-dant.org

).
The Francis Brothers
Griffith William Francis (1876-1936) and Owen William Francis (1879-1936) were two brothers from Cwm Pennant. The family moved to Clogwyn Brwnt, Drws-y-Coed, thence to Gelliffrydiau and thereafter to Nantlle Village.
They sang all over Wales and in the principal cities of England where halls and chapels would be full. They took part in the earliest Welsh Language radio broadcasts - these were from Dublin in March 1927.
They were notable for their popularisation of the poetical works of Eifion Wyn, Crwys, R. Williams Parry and others and according to Dr Aled Lloyd Davies there are grounds to believe that their performances were the earliest examples of penillion duet singing in Wales.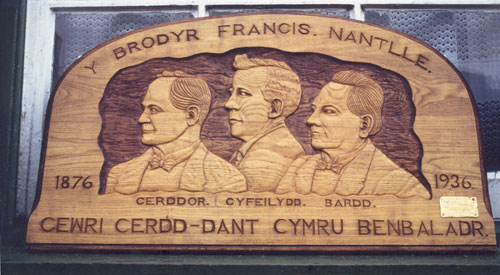 Dyffryn Nantlle: The Bard's Paradise