Safeguarding the Scotch Baptist (Bara Caws) Cemetery - 2008
At long last a gate has been set in place at the entrance to the old Scotch Baptist cemetery, and plans are afoot to put it into good order.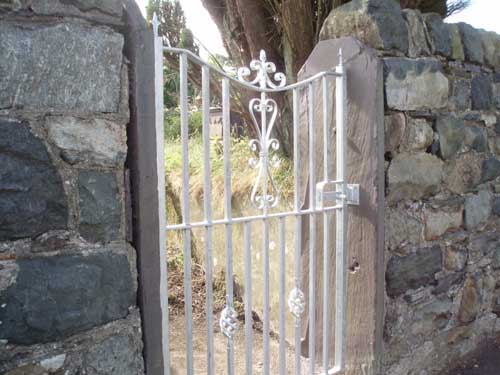 This old cemetery in the middle of the village has been the subject of much research into trying to find the owner, but up to now, all efforts have been in vain.
Following a public meeting in Llanllyfni two years ago, a research group was established, but after following a number of connections and even trying to put the plot on the Land Register all efforts were fruitless.
"It is obvious that nobody really wants to claim ownership, therefore the Community Council and Menter Llyfni have contributed money to safeguard the old cemetery, but it will be necessary to depend on volunteers to do the clearing work," said Councillor O.P.Huws. The intention is to lock the gate, placing a notice with instructions as to where the key may be obtained, and also to set up a plaque giving some of the old cemetery's history.
On the Clearing Day, the gravestone of Sarah Roberts was found. She was buried in 1700, therefore the history of the cemetery goes back very far. Some say that Yr Hen Ddoctor Mynydd (the old Doctor of Mynydd Llanllyfni) and one of the Francis Brothers is also buried there: as the clearing work progresses, it will be possible to record the graves.
If any one of the users of nantlle.com has information or an anecdote, O.P.Huws would be very glad to hear from you on 01286 881176.
It is intended to hold a meeting after the clearing work to present some of its history to the villagers and school-children.